Their South Palo Alto neighborhood welcomed the low cost subdivision of the Colorado Avenue housing authority in 1972, but drew the line when 1800 units were proposed for the Midtown area between Amarillo and Colorado. With the aid of block captains and neighbor to neighbor involvement, the WBRA took a survey and found that what everyone really wanted was a park. So, Jean and Charles took it to the Palo Alto City Council, and in 1973 money was put in the Capital Improvement Program CIP, toward Greer Park.

The City traded land so the park could span the area between Amarillo and Colorado Avenues and demolish the old drive in theatre. Original plans from 1974 called for tennis courts and restrooms. Enid Pearson, the Scotts recalled, cautioned that the land be designated a park so that land itself could not in turn be traded or sold as the powers that be changed their mind in years to come.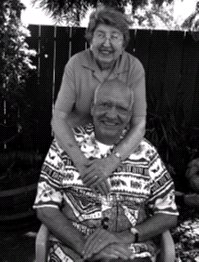 Photo by Sharon Fox
This push to make it a park proved to be a wise one, the Scotts observed. Since 1973, Greer Park has seen its projects shelved in favor of the Arastradero Preserve, put on hold by the passage of Proposition 13, and continually passed over for projects in other parts of the City. Yet because the land had been designated a park, it was on an almost equal footing with Mitchell and Riconada Parks and the City Council could not carve it up and sell it off to subsidize an ice rink (later to become the Winter Lodge on Middlefield Road) or the YMCA (later built on Ross Road.)

While Greer Park stands as the major project of the WBRA, the Scotts point out the other areas the neighborhood association of the 1970's tackled: candidates' nights, childcare, traffic and 100 year flood controls. Issues tackled then were not very different from the issues which still get the neighborhood out to meetings today.

And, while the passing years have seen the addition of a skate board park and the passing of the former city paid staff who monitored park users, Greer Park still has land whose use is being debated by the City Council and the neighborhood.