Instead of choosing an executive training program at White Plains, NY with Big Blue, he decided to try his hand at real estate with Magher Realty, now defunct. He also worked with Cornish & Carey, as well as Taylor Properties, before joining forces with the relatively new Midtown Realty with Fred Ballantine, John Sobrato and Carl Berg, Mary Moore and Roy Lemey. Fairchild, then just getting started, was a client of Sobrato and Berg's and Midtown Realty got them their first building, in Mountain View.
Photo by Sharon Fox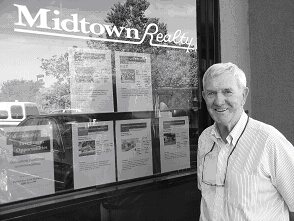 Even though the Midtown building, at the corner of Middlefield and Colorado, had been under water in the 1955 flood, wife Patricia liked the neighborhood and she and Tom moved to Palo Alto in 1959, choosing its charm and diversity over towns further south, like Los Gatos. Tom coached the various AYSO soccer teams of his six kids for over 19 years and helped establish the CYSA in town as well.

Tom remembers the engineers from Lockheed who would roll a marble across the floor to test for levelness or take out a magnet to check for the legendary copper versus steel pipes in the radiant heat system of the Eichlers.

He points out that the cul du sac by Sycamore boasts larger lots than most in the area with a 30 foot setback for the abandoned creek, which had its old creek bed filled in and diverted in the 1960's.

During the economic slowdown in the 1990's, Midtown Center had its share of vacancies, but Tom encouraged the merchants and property owners to bring in a resource person, Suzanne Shields who helped bring in new tenants and brighten up the area. Midtown was able to avoid the doldrums which have hit the nearby Alma and Edgewood neighborhood shopping centers.