Although we're all pleased with the local convenience of having the new Longs in Midtown, the confusing traffic pattern within the parking lot has become predictably worse. And the spillover effects of a revitalized center are impacting all the adjacent streets.

To proactively address this problem-BEFORE a serious accident occurs-MRA has formed a Traffic Action Team which is meeting with City staff to address the following concerns:
As the accompanying photo shows, cars continue to enter the "wrong" way from Middlefield.
People on Bryson Avenue are often trapped, unable to make north-bound left turns onto Middlefield.
The multiple paths at the back of the center lead to frequent head-to-head confrontations between cars.
Cars parked along Midtown Court are blocking visibility for those entering and exiting onto Colorado.
Delivery trucks to 7-11 and Safeway are blocking the bicycle lanes during morning commute hours.
Add speeding motorists on Middlefield, elderly pedestrians, kids on bikes, skateboarders and moms with strollers into the mix and we have an accident waiting to happen!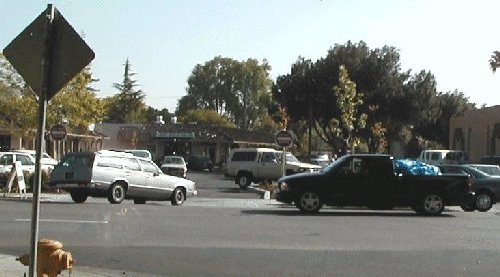 To get the ball rolling, MRA members Jim Barbera, Chris Glazek and Deborah Webb met with Joseph Kott, the City's new Chief Transportation Official, on May 25 to share our concerns and look for solutions. Mr. Kott said that the City will begin a study of traffic patterns in the center to address access, circulation, parking occupancy and demand, and exit issues. The study will not begin until after Labor Day, however, when traffic patterns return to "normal," non-vacation levels.
However, the MRA Traffic Action Team believes that waiting for a study in the fall is too long. In particular, we believe it's crucial that the City immediately address the number of near collisions occurring at the exit onto Middlefield next to the entrance to Longs and to alleviate the problem of Bryson Avenue residents' access to and from their homes. Therefore, the MRA Traffic Action Team and Steering Committee are calling on the City staff and Midtown merchants to make the following changes:
Place a barricade across the exit next to the entrance to Longs.
Place a large planter with a tree and some low plantings on the street side of the barricade.
Restripe the exit of the driveway to create to new parking places.
We think these interim measures will improve circulation and safety and provide additional needed parking. The Traffic Action Team will be meeting again with Joe Kott to advocate these changes.
If you have comments on these ideas, please e-mail your response to the MRA Traffic Action Team, c/o Sheri Furman or mail them to Sylvia Gartner, 824 Moreno Avenue, Palo Alto, 94303.

In the weeks ahead, we plan to discuss other ideas for improving the Midtown traffic mess. Your ideas are needed. If you'd like to get involved in the Traffic Action Team, please call MRA Chair Debbie Mytels, at 856-7580.